Storage shelving racks
---
The storage of common goods and materials is one of the most common ways of using metal shelving racks. This is why the VARIMO shelving system is very popular in all kinds of warehouses. Due to its variability, it can be installed in both warehouses where stock is moved manually as well as warehouses with extensive facilities. The dimensions and layout of shelving racks can easily adapt to storage conditions, whether they are several shelving rack uprights, or the entire warehouse equipment.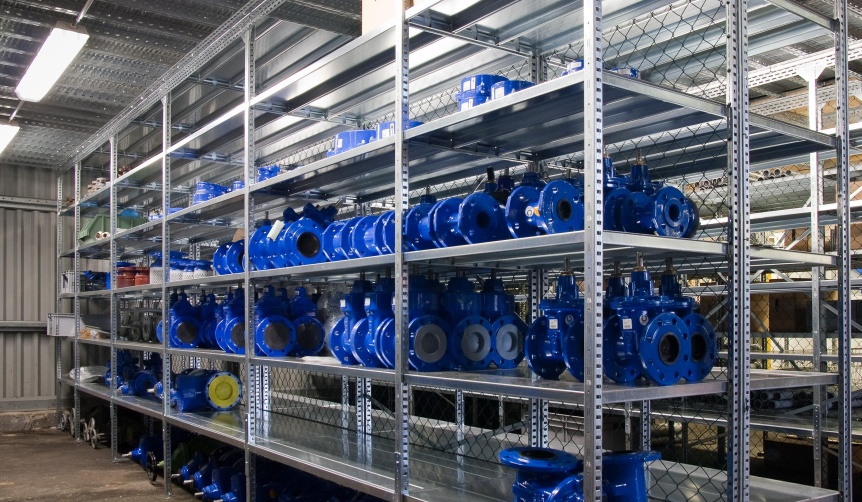 The shelving racks can be designed and arranged according to the current needs of your warehouse, so they provide a clear arrangement of products into shelves and easy loading and unloading. The interesting advantages of VARIMO shelving rack system include the variability of assembly, which makes it possible to continuously change the depth of the shelving rack within a single rack assembly. This way you can efficiently and completely fill various corners and niches of storage space with storage shelving racks.
An appropriately designed arrangement of shelving racks and aisles allow efficient planning of logistics processes.
By default, the shelving racks are designed for manual handling, which at a higher level must be carried out from safe devices.
Basic features:
Solid and stable structure
VARIMO shelving racks allow you to archive documents in any form of storage - in files, archive boxes, hanging boards, data carriers, or even freely. Thanks to their flexibility and high load capacity, they meet all the necessary requirements for storing archival records.
Surface finish: galvanised
The galvanised version of VARIMO metal shelving racks meets strict criteria for archiving. Therefore, the shelving racks can resist even more challenging environments safely, they don't corrode and don't damage the stored documents in any way. They are easy to clean and maintain.
Standardised dimensions
The shelving racks are delivered for archival purposes in standardised dimensions for storing the most common documentation. The appropriate depth of the shelf for single-row as well as double-sided storage shelves, including the shelf length and height, correspond to that. This minimises the restrictions for inserting and removing the appropriate documents.
Accessories
VARIMO shelving racks are extensively used, and it can be even further expanded with accessories. These allow specialised utilisation, or enhancing the convenience of archiving itself. Accessories include a variety of types of stops, partitions, covers, drawers and doors. Ask us about the complete range of accessories on offer - we will be happy to advise you on how to improve archiving your documents.
CONTACT US
Do you have any questions regarding archival shelving racks? Are you looking for a way to best archive documents in your company? Call us or write to us via one of the contacts listed