Accessories
---
The supplied accessories significantly extend the using options of VARIMO shelving racks. The accessories are mainly used to improve sorting stored goods or to store special and non-standard products. They also allow simultaneous storage of an incompatible item within one shelving rack unit.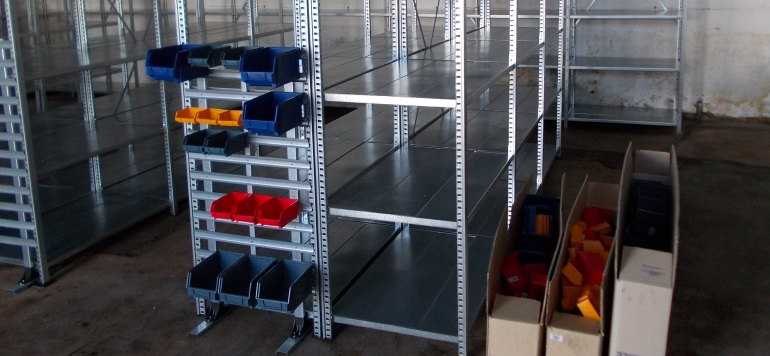 The following types of accessories are available for VARIMO shelving racks:
Side and rear panels
Side stops
Partition dividers
Wardrobe bars
Dividers
Wing or sliding doors
The most commonly used types of shelving rack accessories include side stops and side panels which prevents stacked material from slipping towards the side. The side panels are embedded into the shelving rack frame and can be made in galvanised or painted sheet metal, as well as laminated chipboard. With the painted sheet metal, you can choose the desired RAL colour and with laminated chipboard, there is a selection of designs. Side panels can also be supplied in other alternatives, such as from welded nets, perforated sheets, hardened PVC and others.
Side stops are mostly used when storing files and documents. The side stop is formed by a "U" profile inserted between the frame uprights. It's clipped with hooks. The stop can be set to the desired height in 25 mm increments, the same holes in the uprights are used for hanging the shelves. The side stops can be galvanised or painted.
The shelves on the VARIMO metal shelving rack can also be equipped with sliding stops that can be placed in any position along the shelf length. It's used to prevent stored material from flipping, which most often is a documentation type. The advantage of the mobile partitions, is that you can place them in the desired shelf place, so you can use them as end stops.
Wardrobe bars are an appropriate element for hanging clothes on hangers, or other material to store in a vertical position. The dividers divide shelves into individual segments for storing small items such as fasteners, electric materials, or various fittings.
If you need to prevent unauthorised access to the shelving rack, it is also possible to use door on the shelving rack, in addition to the side and rear panels. Doors can be classical winged or sliding, depending on the area where the shelving rack is used, or simply depending on the user's requirement. The advantage is they don't limit the space in front of the shelving rack. Doors for VARIMO shelving racks can also be unsecured, but in most cases the locking option is used.