Archiving racks
---
VARIMO metal shelving racks are most commonly used for archiving documents and prints, as suggested by their name - archival shelving racks, sometimes referred to as archive or file shelving racks.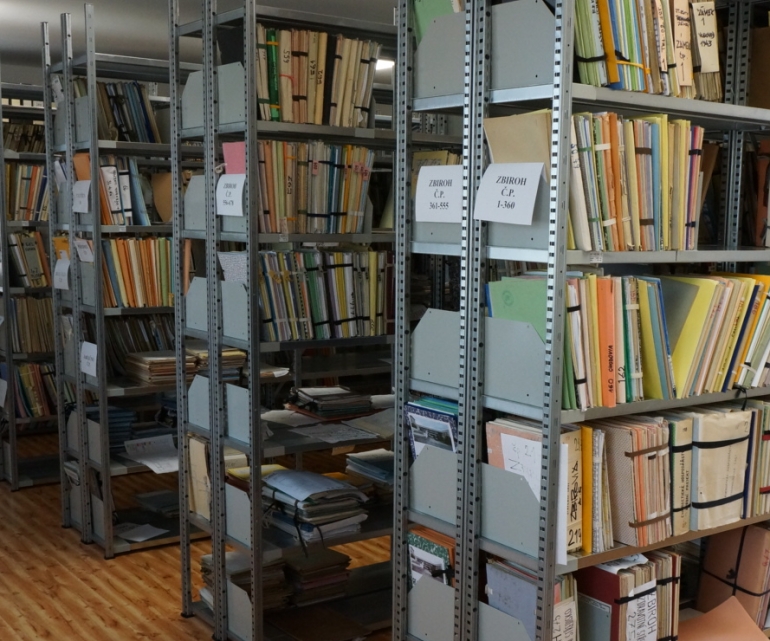 Do you need to archive files or other prints? VARIMO shelving racks are the right option for you. The sophisticated design provides efficient storage for archive materials, especially in files or archival boxes. The narrow uprights allow maximum shelf life for virtually the entire length of the shelf. The low profile height of 30 mm together with the 25 mm adjustability allows you to completely utilise the entire shelving rack height. This allows you to build multiple shelves above each other and the required storage space will be retained.
The depth of the shelves in 100 mm steps and the choice of 150 mm length provides a sufficient amount of dimensional options for storing almost any kind of archival packaging and boxes. It's always possible to find a suitable solution that makes sure that there is no unnecessary unused space in the shelving rack. If you mainly store files, we recommend the standard 300 mm depth for a single-row shelving rack and 600 mm for a double-sided shelving rack.
Basic features:
Solid and stable structure
VARIMO shelving racks allow you to archive documents in any form of storage - in files, archive boxes, hanging boards, data carriers, or even freely. Thanks to their flexibility and high load capacity, they meet all the necessary requirements for storing archival records.
Surface finish: galvanised
The galvanised version of VARIMO metal shelving racks meets strict criteria for archiving. Therefore, the shelving racks can resist even more challenging environments safely, they don't corrode and don't damage the stored documents in any way. They are easy to clean and maintain.
Standardised dimensions
The shelving racks are delivered for archival purposes in standardised dimensions for storing the most common documentation. The appropriate depth of the shelf for single-row as well as double-sided storage shelves, including the shelf length and height, correspond to that. This minimises the restrictions for inserting and removing the appropriate documents.
Accessories
VARIMO shelving racks are extensively used, and it can be even further expanded with accessories. These allow specialised utilisation, or enhancing the convenience of archiving itself. Accessories include a variety of types of stops, partitions, covers, drawers and doors. Ask us about the complete range of accessories on offer - we will be happy to advise you on how to improve archiving your documents.
CONTACT US
Do you have any questions regarding archival shelving racks? Are you looking for a way to best archive documents in your company? Call us or write to us via one of the contacts listed