Multi-storey rack warehouse
---
VARIMO shelving racks are very variable. One possibility of their modification is creating multi-storey warehouses. Multi-storey warehouses use the height of storage space that divides into each floor very well and efficiently. This increases the storage capacity very well while maintaining the original floor plan.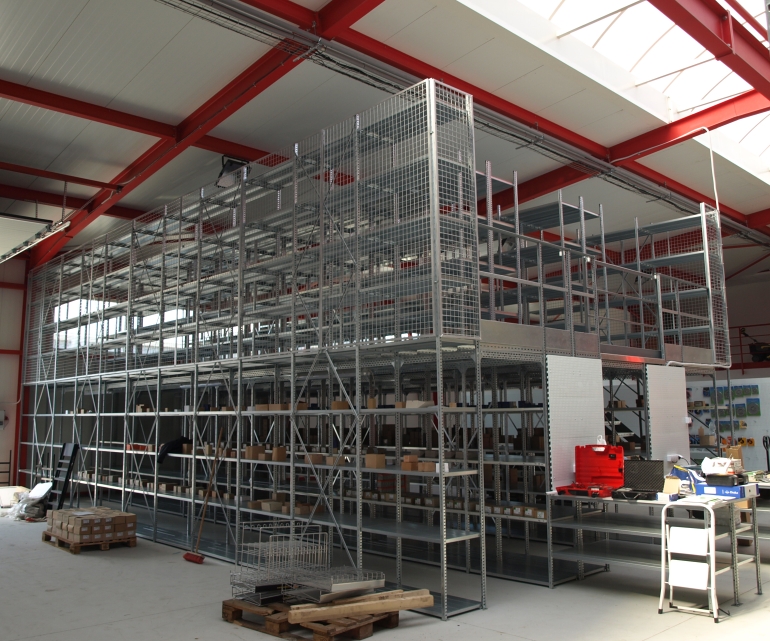 With a VARIMO shelving system, you can build a multi-storey warehouse, especially if you have limited floor space, but a high ceiling. For a one-storey or two-storey warehouse with the required height, we can design sufficiently sized long uprights, whereby the shelves are mounted at the given spacing. In the location of the walkway (floor), we can make a floor, which is made of either steel grids or chipboard. The floor forms a service platform for shelves in the upper parts of the shelving rack.
The individual floors are connected to the staircase. For ease of handling during storage, the floors can also be provided with transfer gates for lifting stored material with a fork-lift truck.
Multi-storey warehouses with VARIMO shelving racks are most commonly used in archives for storing files, documentation and printouts, but also for various goods or spare parts in service and repair shops.
Basic features:
Solid and stable structure
VARIMO shelving racks allow you to archive documents in any form of storage - in files, archive boxes, hanging boards, data carriers, or even freely. Thanks to their flexibility and high load capacity, they meet all the necessary requirements for storing archival records.
Surface finish: galvanised
The galvanised version of VARIMO metal shelving racks meets strict criteria for archiving. Therefore, the shelving racks can resist even more challenging environments safely, they don't corrode and don't damage the stored documents in any way. They are easy to clean and maintain.
Standardised dimensions
The shelving racks are delivered for archival purposes in standardised dimensions for storing the most common documentation. The appropriate depth of the shelf for single-row as well as double-sided storage shelves, including the shelf length and height, correspond to that. This minimises the restrictions for inserting and removing the appropriate documents.
Accessories
VARIMO shelving racks are extensively used, and it can be even further expanded with accessories. These allow specialised utilisation, or enhancing the convenience of archiving itself. Accessories include a variety of types of stops, partitions, covers, drawers and doors. Ask us about the complete range of accessories on offer - we will be happy to advise you on how to improve archiving your documents.
CONTACT US
Do you have any questions regarding archival shelving racks? Are you looking for a way to best archive documents in your company? Call us or write to us via one of the contacts listed