Rack loading capacity
---
Load capacity is an important aspect of any shelving rack system and the VARIMO shelving rack system is no exception in this respect. The load capacity of the shelving rack determines the possibilities of storing the required goods or material. A limiting factor here is the shelf load capacity in this case.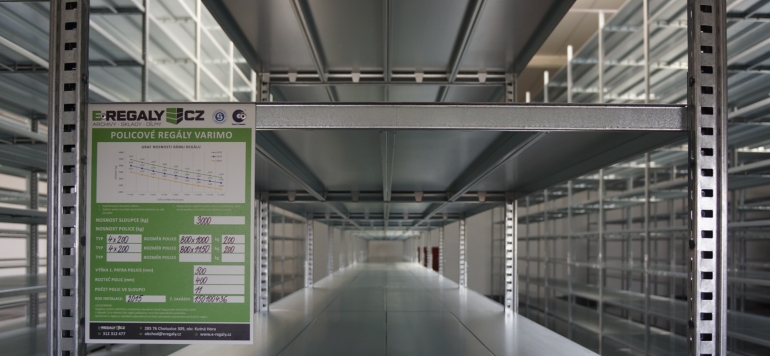 VARIMO shelving racks achieve very good results in terms of load capacity. Thanks to the unique shelf structure that consists of individual panels, it's possible to choose the load capacity from a relatively wide range of options. The bends of the individual panels form the supporting ribs at the bottom of the shelf, which allows achieving the load capacity in virtually all areas using the shelving racks.
The combination of different panel widths and the material used creates a wide range of load-carrying capacities that suit almost all storage requirements. Whether it's regular archiving and storing documents, using shelving racks for warehousing to storing goods and other products, or even in workshops and service shops where you need to store spare parts, semi-finished products or other materials.
The shelving rack uprights don't lag behind the load capacity of shelves as they always have a sufficient load capacity for the required number of shelves in the given shelving rack upright. The loading of a particular shelving rack upright is determined by the number of shelves that the shelving rack contains, their spacing and the height of the first shelf from the ground.
Shelving rack uprights are manufactured in different material thicknesses to adapt to the intended application and load capacity to a maximum. VARIMO shelving rack frames are sized for sufficient toughness and safe transfer of the used load of the fully loaded shelving rack.
VARIMO shelving rack system shelves guarantee a high load capacity that can be guaranteed provided that the material stored is evenly distributed over the shelf and the load is not just in one point or just on a small area of the shelf. Proper storage therefore guarantees not only the safety of the stored goods, but also the health of the shelving rack operators. The same can't be guaranteed if the material is stored inappropriately.
It is also important to note that even if the shelving rack system and the shelves themselves have a high load capacity, this doesn't mean that it is possible to use individual parts of the shelving rack structure to climb the shelving rack or to use it as a support for other storage devices and structures. Exceptions are the cases when this has been accounted for in the actual design of the shelving rack unit.