Mobile shelving racks
---
Up to twice the capacity of the archive or warehouse compared to the traditional layout of stationary shelving racks can be achieved by placing VARIMO shelving racks on a movable chassis. Mobile compact shelving racks are created with the combination of chassis and superstructure from VARIMO system. This modern form of storage is designed for use in archives, warehouses where stock is moved manually, tool dispensers and spare parts, all kinds of operations, warehouses and wherever it is necessary to store unpacked goods. Mobile shelving racks can be installed in both newly-built premises as well as already existing premises where the storage technology needs to be increased.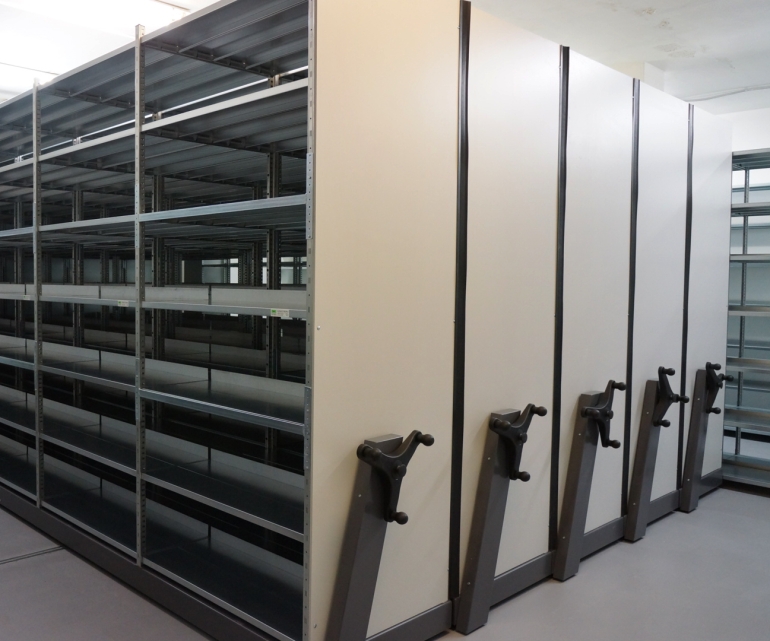 The mobile shelving racks are moved by means of a steering wheel, which is coupled to the drive wheels via chain gear. The shelving rack chassis wheels roll on rails placed on the floor or that are embedded into the floor. The rails mounted on the existing floor are fitted with wedges, if necessary, the space between them is filled with the levelling floor. The number of track rails is determined by the length of the chassis, possibly due to the load on the chassis, as well as their relative position. The length of the rails is derived from the size of the shelving rack blocks.
The chassis dimensions and its load capacity is determined by the size, configuration and the shelving rack superstructure's planned load. The mobile shelving racks can be fitted with a laminated chipboard or cover sheet at the front and back.
Basic features:
Solid and stable structure
VARIMO shelving racks allow you to archive documents in any form of storage - in files, archive boxes, hanging boards, data carriers, or even freely. Thanks to their flexibility and high load capacity, they meet all the necessary requirements for storing archival records.
Surface finish: galvanised
The galvanised version of VARIMO metal shelving racks meets strict criteria for archiving. Therefore, the shelving racks can resist even more challenging environments safely, they don't corrode and don't damage the stored documents in any way. They are easy to clean and maintain.
Standardised dimensions
The shelving racks are delivered for archival purposes in standardised dimensions for storing the most common documentation. The appropriate depth of the shelf for single-row as well as double-sided storage shelves, including the shelf length and height, correspond to that. This minimises the restrictions for inserting and removing the appropriate documents.
Accessories
VARIMO shelving racks are extensively used, and it can be even further expanded with accessories. These allow specialised utilisation, or enhancing the convenience of archiving itself. Accessories include a variety of types of stops, partitions, covers, drawers and doors. Ask us about the complete range of accessories on offer - we will be happy to advise you on how to improve archiving your documents.
CONTACT US
Do you have any questions regarding archival shelving racks? Are you looking for a way to best archive documents in your company? Call us or write to us via one of the contacts listed