Specific rack design
---
VARIMO shelving racks can also be customised for a variety of specific purposes. By adapting the shelving rack structure itself, together with the use of suitable accessories, it is also possible to achieve efficient use of shelving racks in special operations.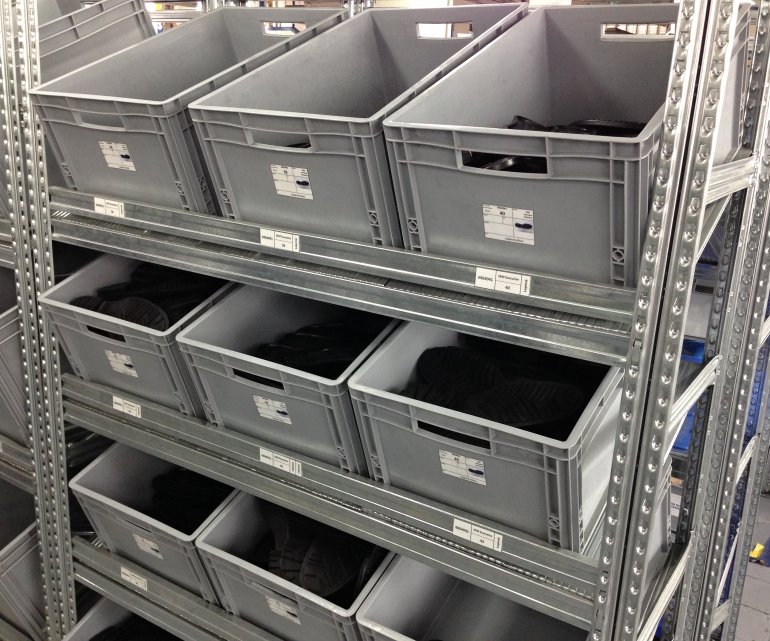 For example, one of the possible features is the Fire Brigade's use of shelving racks to store their equipment. Well-spaced shelves, reinforced stable structure and mesh on the side and back panels together form a unit perfectly tailored for firefighters needs. Every piece of equipment has its place here.
Another option is to place a VARIMO shelving rack on wheels. It can be used as a mobile storage space for moving stored material to the desired location.
As already mentioned, metal shelving racks can be provided with various fillings (either side or rear), which can be both mesh as well as full panels, made of different materials. The most common options include wire mesh, galvanised or varnished sheets, laminated boards with different style and others. It is also possible to create a shelving rack cabinet from the shelves, by completely enclosing and closing the front part with a lockable door. Various materials and design modifications can be applied, such as opening or sliding doors and various types of locking.
Last but not least, VARIMO shelving racks can be modified to fit into other furniture parts. The most used option in this segment is the modification of shelving rack systems to working or wrapping tables, continuously connected to shelving rack units. The actual table structure uses the customised shelving rack parts and is fitted with a worktop made from appropriate material according to the customer's needs.
Basic features:
Solid and stable structure
VARIMO shelving racks allow you to archive documents in any form of storage - in files, archive boxes, hanging boards, data carriers, or even freely. Thanks to their flexibility and high load capacity, they meet all the necessary requirements for storing archival records.
Surface finish: galvanised
The galvanised version of VARIMO metal shelving racks meets strict criteria for archiving. Therefore, the shelving racks can resist even more challenging environments safely, they don't corrode and don't damage the stored documents in any way. They are easy to clean and maintain.
Standardised dimensions
The shelving racks are delivered for archival purposes in standardised dimensions for storing the most common documentation. The appropriate depth of the shelf for single-row as well as double-sided storage shelves, including the shelf length and height, correspond to that. This minimises the restrictions for inserting and removing the appropriate documents.
Accessories
VARIMO shelving racks are extensively used, and it can be even further expanded with accessories. These allow specialised utilisation, or enhancing the convenience of archiving itself. Accessories include a variety of types of stops, partitions, covers, drawers and doors. Ask us about the complete range of accessories on offer - we will be happy to advise you on how to improve archiving your documents.
CONTACT US
Do you have any questions regarding archival shelving racks? Are you looking for a way to best archive documents in your company? Call us or write to us via one of the contacts listed