Basic specification
---
The basic specifications of VARIMO metal shelving racks are described with the structure design and individual elements of the shelving rack system. The information below can practically describe the material structure of VARIMO shelving rack system and its individual elements.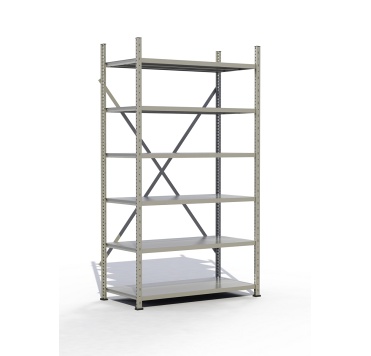 The professional shelving rack system has the following features: quality processing, rigid construction and variable layout. VARIMO shelving racks are made up of three basic elements: supporting frame, shelves and strengthening beams.
Shelving rack frame consists of uprights, top covers and bases under the uprights.
Shelf is composed of crossbar shelves and panels in the appropriate dimensions.
Strengthening beam varies according to the way of placement and comes in two options - such as cross bracing or "H" continuous profile.
The shelving rack structure is designed for screw-less assembly, of course, while maintaining high stability.
Surface treatment - galvanisation - is made of a sufficiently thick zinc coating and guarantees excellent shelving rack properties, including long life, representative appearance and easy maintenance.
The undisputable advantages of the shelving racks includes the design of individual structure components:
Narrower uprights provide more space along the length of the shelf, resulting in a wider clear dimension for loading archival items or goods into the shelving rack.
Low profile and smaller adjustable step allow the stacking of more shelves while maintaining the shelf height. The shelf edge height is only 30 mm and the shelf adjustment is 25 mm within the shelving rack height.
VARIMO shelving racks are manufactured from certified steel and statically calculated profiles of individual components to secure declared shelving rack load capacity. By combining individual shelving rack parts, the required load capacity as well as the unit dimensions variability are achieved.